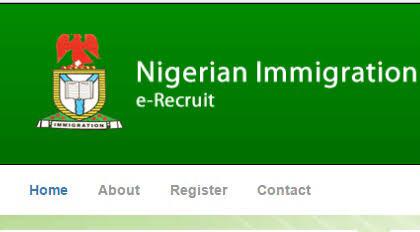 Application Portal for Nigerian Immigration 2022/2023.
This is to inform you that NIS Recruitment 2022/2023 has started and here is the application portal for the recruitment.
Nigeria Immigration Service Recruitment Portal, the requirements, and qualification for the 2022/2023 are all stated in this article. Know that you can apply for Nigeria Immigration recruitment 2022 online via the website which is the application portal.
Nigeria Immigration Service Recruitment 2022 starting date has been announced. This article contains information on the Immigration recruitment portal and application guidelines and how to get the recruitment form. You can apply for the Nigeria Immigration Service job on the website www.immigration.gov.ng portal and also get shortlisted.
Application Portal for Nigerian Immigration
Below is the application portal for Immigration Service
www.immigrationrecruitment.org.ng
Nigeria Immigration Service Recruitment Basic Requirements;
1). Applicants shall be of Nigerian origin by birth
2). Candidate must possess a minimum of 4 credits in not more than 2 sittings in either WASSCE/GCE/NECO or NABTEB. Hence, one of the credits must be English Language.
3). In addition to qualifications above, those applying as tradesmen women must also possess OND/Trade Tcst/City and Guild Certificate. Details are available on the www.immigrationrecruitment.org.
4). Candidate must be between the ages of 18 – 22 years for non-tradesmen women while tradesmen women must be between the ages of 18 – 26years by 1st June 2022.
5). Candidate must be free of any criminal conviction.
6). You must be medically, physically and psychologically fit
7). Not be less than 1.65 meters and 1.56 meters tall for male and female applicants respectively.
8). You are to print out a slip tagged: Photocard which should be presented at the screening center.
Nigeria Immigration Service NIS Requirements 2022
1). Passport size photograph
2). First School Leaving Certificate
3). WAEC/Nabteb/NECO/GCE Results
4). Optional – NCE/ND/Trade Test/ RN
5). Birth Certificate / Declaration of age
How to Apply For The Nigeria Immigration Service Intake.
Interested candidates are to: Apply online at the recruitment portal https://immigrationrecruitment.org/Choose a career link(https://immigrationrecruitment.org/?p=apply-online) and fill all the required fields correctly & completely.
e-Recruitment Account Will Grant You Permission To:
(1). Fill & Submit Your Application Form Once.
(2). Login Again Anytime To Make Changes & See Application Status.
(3). Printout The Important Documents, Push Notifications & Many More.
Important Notice for Immigration Service Recruitment 2022/2023:
There will be no Pre-Selection Computer Based Test to be conducted on candidates
No special centre for recruitment
There will be no CBAT Exercise
All screening of potential recruits will be done at the candidates respective state of origin
Any candidate who failed or forged his or her results and discovered even during training at the Nigeria Immigration Service training camp would be withdrawn & hand over to the nigerian police for prosecution.
Candidates are advised in their interest not to give any form of gratification or inducement to any person or group of persons to assist them in the recruitment exercise
Shortlisted candidates will be published on this portal & be scheduled for screening
Shortlisted candidates are to report to their respective states of origin for the screening exercise on Sat, 14/05/22
Successful candidates would be transported(FG's provission sorted by state) to the Nigeria Immigration Service training school for documentations and to commence training activities for a six month(6) camp-life(See your mailbox for details).
On completion of training, all successful recruits to be commissioned into the service & get prepared for induction into the North East Theatre of operations(12 Weeks intensive training on frieght Management & Human Trafficking included).
Incoming Searches to Nigeria Immigration 2022/2023:
Is immigration form 2022/2023?
Is Nigeria Immigration portal 2022
Is NIS recruitment website for 2022/2023
Is the immigration recruitment official website.