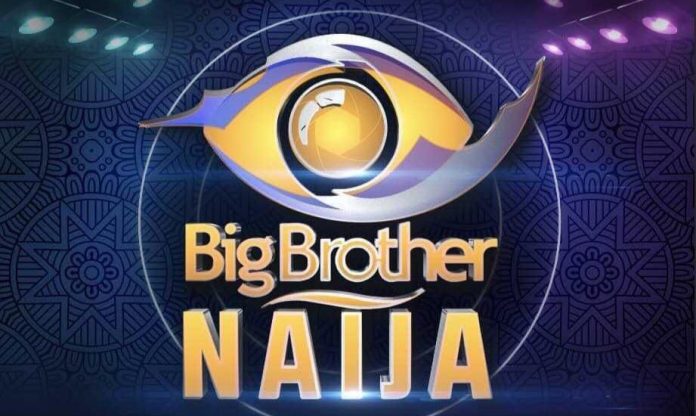 How to Apply for GOtv, DStv BBNaija 2021 Audition Early Birds.
We deemed it fit to share with you easy way and tips on how you can access the Africa Magic Website to upload your video of 2 minutes as the Big Brother Naija 2021 audition will be online due the pandemic through this website, stay connected for more info and updates from the big brother Naija 2021 live TV show and latest updates.
The most anticipated Big Brother Naija reality TV show is back as COVID-19 is still striking globally, but with the nationwide vaccination, the show is set to run in 2021.
This is a direct tips and guide to standing out in Big Brother Naija 2021 Online Audition holding in March/April 2021 for GOtv and DStv users as early bird to the show to win a mouthwatering tag prize of N90,000,000 (Ninety Million Naira).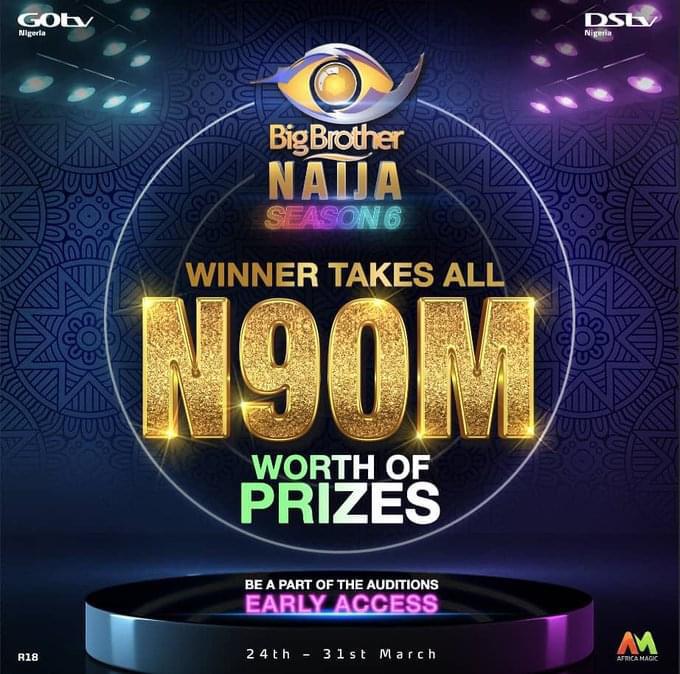 How to Qualify for Big Brother Naija 2021 DStv, GOtv Audition
You must be a GOtv or DStv subscriber to be part of the show
You must be of Nigerian nationality
You must have a valid Nigerian passport
You must be 21 years of age by 2021.
What are the Requirements for BBNaija 2021 Audition
Pay on DStv Premium, Compact, Compact Plus. Yanga, Confam, GOtv Max or Jolli between 24th and 31th of March 2021.
Send email to AfricaMagicEvents@ng.Multichoice.com with your smart card or IUC number to receive a unique website link to complete the registration.
Remember your Audition will be 2 minutes Video telling Big Brother why you should be in the house.
You must be 21 before June 2021.
Follow all BBNaija, DStv, GOtv social media pages for more info.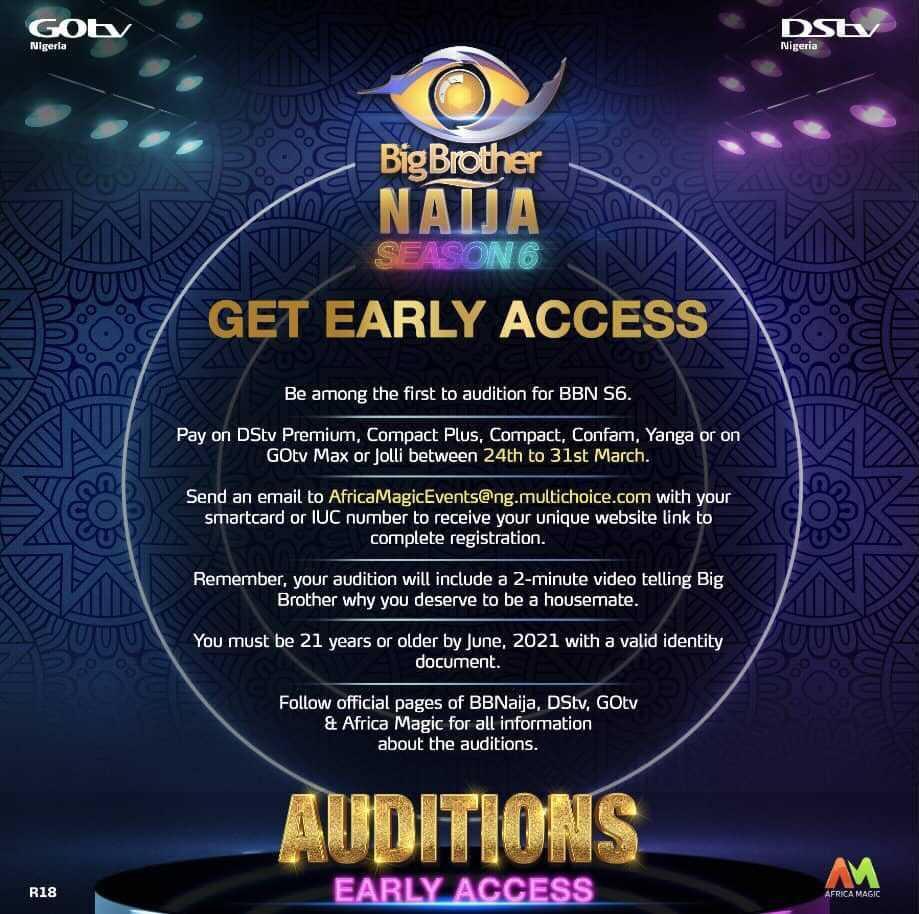 Exclusive Tips for BBNaija 2021 GOtv, DStv Audition
You have to avoid using too much filter for your videos, Biggie want real people not fake looks.
Ladies avoid heavy makeup, show more of your real face, Biggie's doesn't want someone wearing fake face in his house.
Preferably, make the video in your room, avoid showing what you don't have.
Better to use a good and bright phone camera.
Speak more than you dance or showing off muscles. LOL
If you have access to phone microphone, it's better for clearer sounds.
Using a professional Videography with complex video shoot is not advisable.
Follow the upload instruction strictly, don't add yours you're NOT the organizer.
Time is very important, the videos sent in will be filter first and the ones with the accurate time frame would be selected first and screened accordingly.
How to Upload BBNaija Online Audition Video on the Website
You are expected to record a two-minute video of yourself stating why you should be picked to be a Housemate in season 6 of Big Brother Naija. Only after recording your video, then you need to fill out the online registration form and upload your video below.
Please answer all questions on the form fully and honestly. If it is discovered that you have been deliberately untruthful or have withheld information relevant to your character or your past, you will be disqualified from the selection process.
Upload 2min video introducing yourself, and tell big brother why you should be in the big brother naija 2019 house his season
Key searches to this post:
How can I be in bbnaija as gotv user
How to subscribe my dstv to qualify for bbn
How do I audition for big brother naija on gotv
Can go for the bbnaija 2021 show as gotv user?
Big Brother Naija 2021 Audtion for DStv, GOtv Users
BBNaija Social Media Page
Twitter: Follow our official Twitter account @BBNaija and share your moments and comments with Biggie using the #BBNaija.
Facebook : Like official BBNaija page www.facebook.com/bigbrothernaija and do not miss an instant of Biggie's House thrills.
Instagram: Follow BBNaija Instagram account @BigBroNaija and comment using #BBNaija.
How to Make My Comment Show on TV Screen
To make your comment show on the screen, always use the #BBNaija after comment on all Big Brother Naija social media platforms, then you will see your comment rolling live on the BBNaija Television screen.
DStv and GOtv Social Media Accounts
You can also follow verified social media accounts of DStv, GOtv and AfricaMagic as follows;
Twitter: @DStvNg @GOtvNg @AfricaMagicTV
Instagram: @DStvNigeria @GOtvNg @AfricaMagic
Can I Opt-out if I am not Interested in watching the show?
Subscribers will have the option to opt-out as they always have. The specific opt-out sequence will be communicated in due course.
DStv SMS (Opt-Out)
Text Smartcard Number + BBOUT to 30333 to opt-out.
GOtv SMS (Opt-Out)
Text IUC Number + BBOUT to 4688 to opt-out
On which packages will Big Brother Naija be available on DStv or GOtv?
Big Brother Naija will be available to subscribers on all DStv packages and only to subscribers on GOtv Max and GOtv Plus packages.
Dairy Session with Big Brother (Biggie)
The dairy session is one of the most exciting parts of the Big Brother Naija reality show, as housemates get to air their minds to Biggie about the general mood in the house. The diary session being an integral part of the BBN reality show, sometimes done ones or twice weekly, depending on Biggie's decisions.
Housemates are expected to be very expressive with Biggie during the dairy session, being the only opportunity they have to speak with Biggie. Many viewers of the reality show see the diary session as the most crucial part where some housemates get to express their deep emotions with tears, past life, future intentions, and true self. Some other housemates get to be very funny during their dairy session as they are the livewire of the diary room with Biggie.
Arena Game in Big Brother Naija
The arena game in BBNaija is game time that is typically done every Friday in Big Brother's house. This allows housemates to compete in a challenging and tough game with a stipulated time to finish the arena game.
The arena can be challenging and tasking that only a few housemates will be able to complete the challenge in no time. The housemate with the least finishing time after completing the arena game is announced as the winner by Big Brother after every housemate must have completed their task in the arena game.
BBNaija Housemates Party Weekly
The Big Brother Naija party comes up every Saturday night in Biggie's party hall as all housemates will have a chance to party amongst themselves with live DJ dishing out some hit tracks from Naija musicians and beyond. Brewery Company always sponsors the party in Nigeria as housemates get to have access to lots of assorted drinks and cocktails during the party.
Sunday Live/Eviction Show in BBNaija
Every Sunday is the live show in BBNaija with live music from Naija Artiste and possible eviction. The Sunday live shows comes typically up every 7 pm (WAT) as the host of the reality show gets to take the stage with lots of energy from the crowd in the live show and housemates up for possible eviction has to dress up with their luggage's expecting the unexpected from the host of the Big Brother Naija reality show.