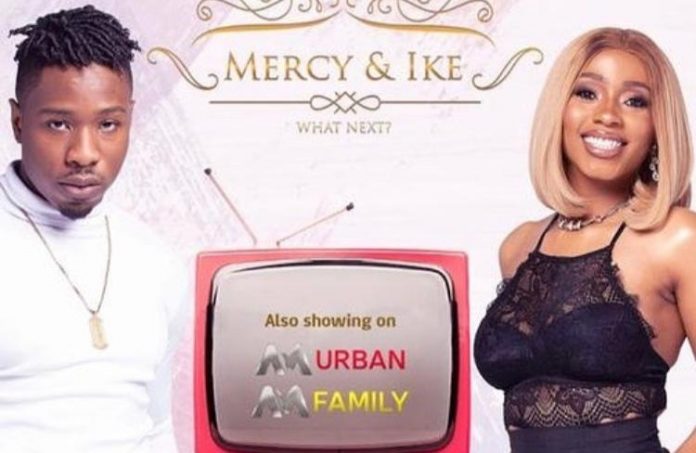 How to View Mercy and Ike Reality Show on GOtv and Online.
The thrilling Mercy & Ike reality TV show was launched on April 26 on Africa Magic Showcase DStv Channel 151 as well as GOtv channel 2 as lots of viewers and fans of BBNaija reality show are curious to know that will happen in the new reality TV show. We deemed it fit to provide you with the complete detail on how to watch Mercy and Ike show from the comfort of your home on DStv for users of DStv in Nigeria and other Africa countries (South Africa, Ghana, Zambia, Uganda, etc.).
Date for Mercy and Ike Show on GOtv
The show started officially on April 26, 2020 and was on Africa Magic Showcase DSTV Channel 151, GOtv users are also going to benefit from the reality TV show across Africa, this undoubtedly promises to be exciting. A return match for Mercy and Ike alongside there drama is a welcome development.
The show will on GOtv on 3 May, 2020 on Africa Magic Family at 6pm (GOtv channel 2).
Time for Mercy and Ike Reality Show on GOtv
The time for Mercy and Ike reality TV show will be on different channel at different time of the week, we have written for GOtv and DStv users.
26 April on Africa Magic Showcase at 6:30pm (DStv Channel 151)
27 April on Africa Magic Urban at 9:30pm (DStv Channel 153)
3 May on Africa Magic Family at 6pm (DStv Channel 154 and GOtv channel 2).
How to View Mercy and Ike Show on DStv and GOtv
The Mercy & Ike reality TV show will be shown on channel 151 Africa Magic Showcase on DStv as previously stated in this article. We shall announce the GOtv channel for the show as soon as possible.
Africa Magic Showcase (DStv Channel 151)
Africa Magic Urban (DStv Channel 153)
Africa Magic Family (DStv Channel 154 and GOtv channel 2)
The ex-BBNaija (Big Brother Naija) 2019 housemates Ike and Mercy are set to launch a reality TV show in Nigeria which is slated for April 26, 2020. Mercy Eke, the winner of the Big Brother Naija (BBNaija) Show 2019, just released a video on her Instagram page, Ike also posted the same thriller video on his official Instgram page. The Video is an interesting trailer to a reality show by Mercy and Ike as social media went buzzing with the news from the lovebirds.
Mercy and Ike was a couple of Big Brother Naija (BBNaija) 2019 edition and were no doubt the fans favourite couple, but after the eviction of Ike from the BBN reality show, Mercy took the crown as the 2019 winner. Mercy and Ike had so much love to share during the season; they turned out to become the favourite couple for a multitude of viewers.
Although Ike did not make it to the finale of the show, Mercy made sure to win the crown and brought it to him. However, their relationship was suspected of having taken a terrible turn shortly after the show ended. Many of their fans speculate it could be as a result of the "unnecessary" relationship between Tacha and Mercy. It is no less than real that Mercy's supporters and those of Tacha's are like two ends of the universe, never to meet at any point.
Contrary to what many might think regarding the Mercy and Ike relationship, it appears they have indeed been spending a lot of time in private. The release of the trailer video today took the internet by storm as it was not expected. We saw Mercy reminding Ike in the clip that she told him to make a choice. Could it the choice between her and Tacha?
Profil of Ike BBNaija Housemate
Ike BBNaija was born on July 19 1992. He went into the BBnaija competition at the age of 26.
Ike BBNaija's real name is Steve Ikechukwu Onyema. He was born on July 19 1992. Steve Ikechukwu or preferably Ike BBnaija hails from Imo State in the south-eastern part of Nigeria dominated by mostly Igbos. He is a Nigerian but based in Houston in Texas. Ike is a graduate with a degree in Mathematics.
Ike is a model, based outside Nigeria featured in the recent BBnaija 2019 reality TV show. He describes himself as someone who is self-confident and promises to give Nigerians drama. He loves entertaining people and chooses to be happy, regardless. Ike BBnaija hates people that talk too much, although he can be loud and colourful sometimes.
Ike's favourite movie according to him is "No Country for Old Men" (a 2007 American neo-western crime thriller film written), and you will mostly find him eating steaks and watching the movie during his free time.
Ike during the BBnaija reality TV show mingled with a particular housemate, Mercy Eke, whom many believe he would tie the know with. In the house, he combined and tangled with the Mercy Eke who won the BBnaija show, and both continued their love affair even after the show. Ike was evicted from the BBnaija reality TV show on the 13th week, September 29 2019. However, when Mercy won the show, Ike believed that her winning would be positive towards their relationship.
However, things are not going on well with Ike and Mercy's relationship. The one-time love birds unfollowed each other on social media before Mercy blatantly posted that she's currently single. Shortly Ike was seen in a picture he published himself, with Mercy's sworn enemy, Tacha. However, Mercy and Tacha have decided to lay down their swords before the break-up of Mercy and Ike's relationship. The couple seems to be re-united as Mercy and Ike are out to run a reality TV show titled Mercy & Ike play. The Mercy and Ike show will focus on the couple and how they live with each other outside the BBNaija house.
Profile of Mercy BBNaija Housemate
Mercy Eke was born September 29 1993, and she is a Nigerian media personality, actress, video vixen and entrepreneur from Imo State (Eastern part of Nigeria). She won season 4 of BBNaija reality TV in October 2019, becoming the first woman to win the reality show.
On March 14, 2020, Mercy Eke received the Africa Magic Viewers' Choice Award (AMVCA) for Best Dressed Female alongside with Mike who won for best-dressed male.
Mercy Eke is from Imo State, Nigeria. She attended Egbu Girls Secondary School in Owerri and graduated from Imo State University in 2014. Mercy Eke appeared like a vixen in the music video for Davido and Ichaba's single "Baby Mama". She also appeared in the music video for Airboy's song "Nawo Nawo". Eke auditioned for Big Brother Naija four times before becoming a contestant in season 4 of the reality TV show in Nigeria.
Eke entered the Big Brother Naija house on June 30 2019. She was announced as the winner in October 2019, becoming the first woman to win the show with a total of 27 housemates who came with their A-game.
After winning season 4 of Big Brother Nigeria reality show, Mercy became an ambassador and influencer for various organizations. In 2020, she made her acting debut in the Nollywood film Fate of Alakada. Eke has also appeared in short comedy skits alongside a few Nigerian comedians.
April 8 2020, Eke announced the launch of a joint Reality Show with Ex-Big Brother Naija Housemate, Ike Onyema, tagged "Mercy and Ike." The reality TV show from Africa Magic delves into the journey of Mercy and Ike's relationship. Eke has signed endorsement deals and become a brand ambassador for numerous brands, including Ciroc and Mr Taxi.
Always expect drama from the lovebirds as the show kick starts and it will be showing on DStv and GOtv in Nigeria, Angola, Benin, Botswana, Burkina Faso, Burundi, Cameroon, Cape Verde, Central African Republic, Chad, Congo, Democratic Republic of the Congo, Djibouti, Equatorial Guinea, Eritrea, Ethiopia, Gabon, Gambia, Ghana, Guinea, Guinea-Bissau, Ivory Coast, Gambia, Malawi, Botswana, Benin, Lesotho, Liberia, Madagascar, Malawi, Mali, Mauritania, Mauritius, Mozambique, Namibia, Niger, Nigeria, Reunion, Rwanda, Sao Tome and Principe, Gambia, Malawi, Botswana, Benin, Seychelles, Sierra Leone, Somalia, South Africa, South Sudan, Sudan, Swaziland, Tanzania, Togo, Uganda, South Africa and Zimbabwe.
Always stay connected for all the latest news as it unfolds from the Ike and Mercy reality TV show 2020.