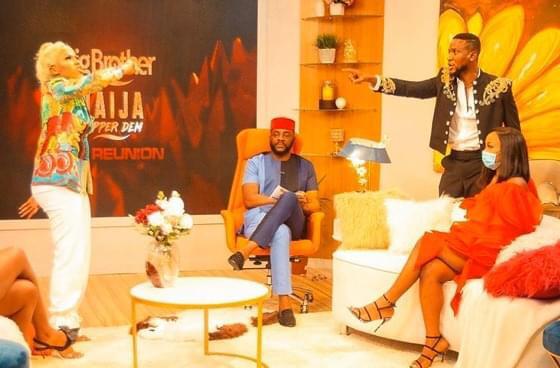 Mercy and Omashola got into FighT in Day 7 of Reunion 2020.
Big Brother Naija 2020 reunion show is nothing but a total package of Pepper, and lots more from all the former housemates.
The day 7 of the reunion show was an epic one for Omashola and Mercy as both former housemates got into fighting. It all started when the BBNaija 2020 host, Ebuka Obi-Uchendu, told Omashola that there are clips of him gossiping and went further to show a video clip of him and fellow housemates Seyi chatting in the garden about Mercy being a prostitute.
This resulted in a severe quarrel after series of clips were played from the past Big Brother Naija reality TV show, Omashola who was trying to be defensive about his statement, got into a fight with Mercy as she (Mercy) refused to believe what Omashola was saying.
It got into a severe fight that both housemates had to be separated by the Host of the reality show, Ebuka Obi-Uchendu.
After several moments of head-to-head clashes, Avala came in to calm the situation when she noticed the situation was getting worse after several attempts by Omashola and Mercy to break into a real fight.
Avala bluntly told Omashola of his wrong for calling a lady "prostitute," and that no one would accept to be called a prostitute and that he should apologize to Mercy for that for both parties to live in peace and kick all grudges from their mind.
Omashola quickly apologized after Seyi and Esther said he should apologize and stop defense of any kind.
Omashola had a handshake with Mercy after apologizing to Mercy and said they are friends and that he has even forgotten about all that after the show. Mercy, in turn, also apologized to Omashola for insulting his parents during the process of the quarrel with him.
They both loved up, and it was the end of the day 7 BBNaija 2020 reunion show, which was entirely stolen by Mercy and Omashola.