Cardi B and Daughter Cover Vogue Magazine (PHOTO).
American female rapper, Cardi B and her daughter, Kulture are on the cover of Vogue US magazine's January 2020.
Cardi B is one of Vogue's four January cover stars. She shared the cover with 1-year-old Kulture Kiari Cephas on the front page of the magazine.
She granted an interview where she spoke about motherhood, a new album, the scrutiny of ever-escalating fame, and how she handles the pressure.
Cardi B, who was born Belcalis Almánzar, said she was a class clown who always dreamed of being a famous rapper.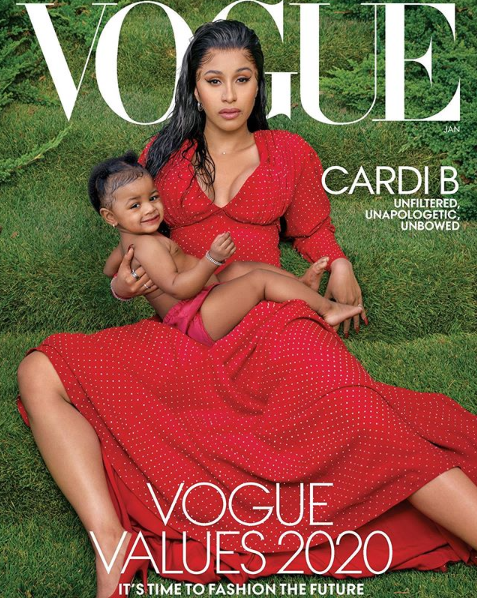 She added: "I don't know what it is—I will never know what it is—but ever since I was young, people liked to hear me talk. I was always that person, like, I didn't really have a lot of friends, but people was excited to see me in class because they knew I was funny. They was dying to hear a story from me."
Cardi, who went from stripper to social-media phenom to reality-television star to world-beating rapper in less than five years, went on to share her thoughts on her next album, politics, motherhood, marriage, and more in Vogue's January 2020 cover.
Stay connected for more updates from our fashion blog post.